How Datylon helped POM to automate their monthly customer reporting
POM, a Belgian fin-tech scale-up, was looking for a way to improve the monthly reporting on their payment services. The raw data formats needed to be replaced by a visually appealing and on-brand report template. Also, the manual process needed to be automated to save time and scale the service.
Challenges with report design and production
POM simplifies paying invoices using mobile technologies. Its payment solutions help billers to reduce costs, get paid faster, and boost e-invoicing while greatly improving the ease of payment for their end-users. Customers from various sectors, such as utility companies, schools, hospitals, and social & governmental service providers, already use their services.
POM stands for Peace of Mind. That's why their mission is to eliminate useless time and effort spent on inefficient systems and by doing so to free up space for the more important things in life. In that respect, they wanted to further improve their own reporting services to their customers.
More specifically, POM was looking for a way to better visualize and automate their monthly customer reports regarding the usage of their payment services. Before the collaboration with Datylon, payment transaction data were delivered in a raw data format (Excel or CSV). In order to provide a better experience for its customers, a visually appealing report template fully in line with POM's branding was necessary. Also, the manual process needed to be automated to save time and scale the service.
Combining design services with automation capability
As part of the POM service, each customer who sends POM-enabled invoices receives a monthly personalized one-pager with KPIs and the evolution of these KPIs compared to the previous month. The main KPIs are:
The daily evolution of the number of successful payment transactions (processed by POM).
Split view of these payments by channel (QR, email, SMS, …) and by payment method (Bancontact, Payconiq, Visa, Mastercard, …).
If payment requests are also delivered via POM (e.g. via email with a payment button): the evolution of the number of documents delivered per channel.
Evolution of the usage of prepaid credits (POM uses a pre-paid system of credits where future transactions are to be bought in advance).
The first step in the approach was applying Datylon's dataviz expertise to improve the overall design of the report. The report was re-designed using Adobe Illustrator and the Datylon plug-in for Illustrator. By using the powerful combination of both tools, POM's brand styling guidelines could also easily be applied to the new reporting format.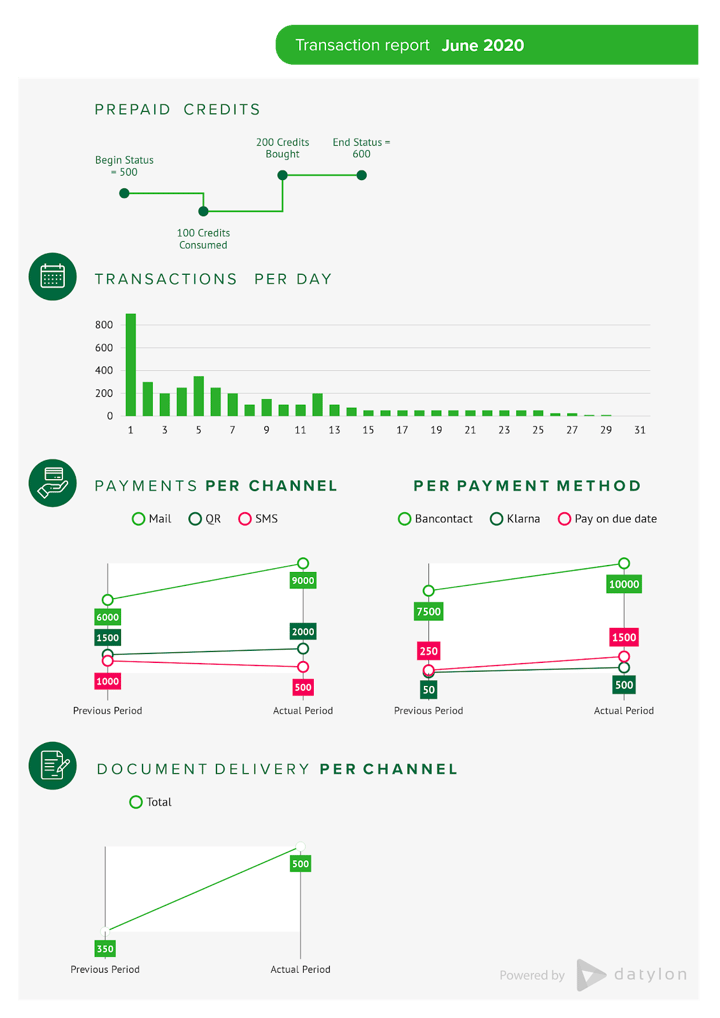 The new report design template was then exported to the Datylon Report Studio to facilitate automation. Each month, a POM batch process collects the raw KPI data per customer, creates an excel workbook file from this information, and passes the workbook to the Datylon Report Server requesting a PDF version of the re-rendered template. The resulting PDF is mailed automatically to the customer.
Learn more about Datylon Report Server and discover how Datylon can help you improve your report design & production workflow.
For each customer, POM determines the appropriate report template (several versions are available for several customer groups). Such a specific report template applies, for example, to the free payment services that POM offers to schools in Belgium. The transaction fees are covered by advertising partnerships with Payconiq and Luminus. The reporting template for schools, therefore, includes banner ads for these partners.
Via POM's back-end configuration tool, the recipients can be defined and one or multiple recipients can be added.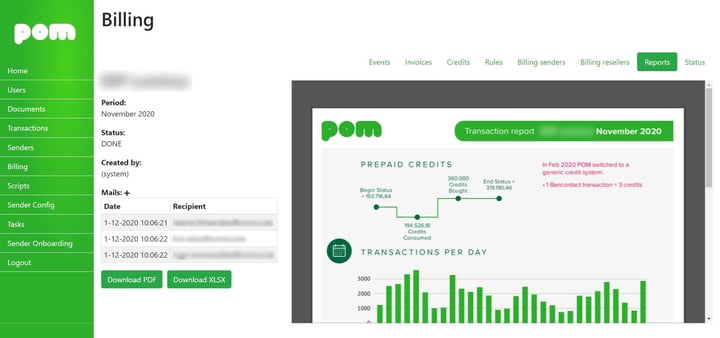 As services are evolving rapidly, the automated solution needed to remain flexible. New versions of the monthly report can be easily created with Datylon for Illustrator. They can then be put into test and production by exporting the new design to the Datylon Report Studio and updating the invocation of the Datylon Report Server.
Benefits of an automated reporting solution
"Thanks to the cooperation with Datylon, we are now sending visually appealing and insightful reports to our customers in a fully automated way. This is a big step forward in the way we provide data insights to our customers about their usage of POM's services."
Johannes Vermeire, CEO and co-founder of POM, is very happy with the automated reporting solution provided by Datylon. Let's sum up all the benefits:

The fully automated reporting solution for POM's customers saves a lot of time for all parties.
The new report design is more visually appealing, fully on-brand, and enables quick insights at a glance.
Flexible and adaptable report templates take into account different reporting needs for different groups of customers.