9 types of data visualization

Dieuwertje van Dijk - Data Visualization Designer
April 07, 2022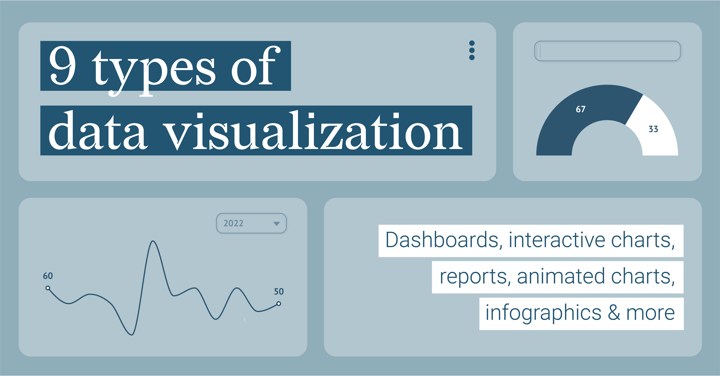 When somebody asks me about my profession and I tell them that I'm a data visualization designer, most people have no clue what I'm actually doing. Nowadays it has become a bit easier to explain my passion because of the commonly known COVID charts and dashboards. But beyond that, to some, it remains a vague and mysterious field.
Nevertheless, the total amount of data in the world is increasing rapidly. Especially in organizations, communicating data is becoming more important than ever. It can be very helpful in optimizing everyday tasks, such as optimizing the schedule for surgeries, predicting the need for hospital beds in the ICU, or even reviewing the sick leave days of employees.
To avoid overwhelming the brain when analyzing all this data, data visualization comes into play. Visualizing data will make the process of decision-making and optimization much easier. Moreover, data visualization helps tell the story of the data and puts information into a context, making it easier to understand for your audience.
In this article, I will guide you through the wonderful world of data visualization and expand your knowledge about the way you can display your data and how to tell your data story to your specific audience.


Chart
Let's start with data visualization in its most basic form; the (static) chart. Charts are used to display large amounts of data in a condensed and easy-to-understand manner. They are graphical representations of data which makes it easy and fast to digest by the brain. Moreover, charts make it apparent to find hidden information and insights that are otherwise hard to find from a table with data.
There are a lot of types of charts, each with its own function. The most commonly known charts are the bar chart, the line chart, and the pie chart. Charts form the basis for all types of data visualizations I will discuss in this blog.
An example of a static bar chart can be found in the next example. This type of chart, called a divergent bar chart, is ideal for presenting survey results. Start building your own static charts now with our Datylon for Illustrator plug-in or Datylon Online.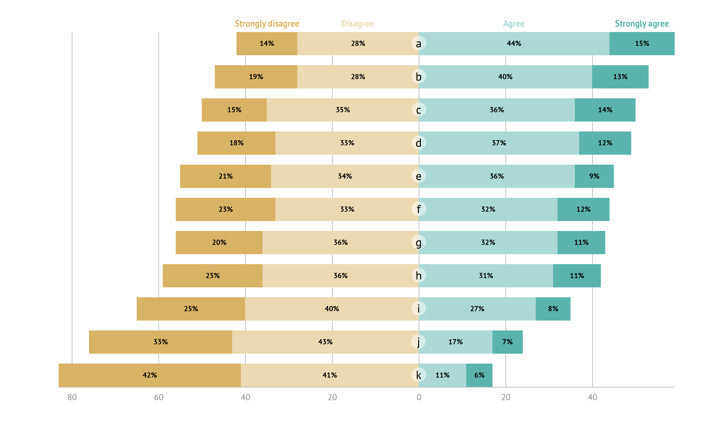 Diverging bar chart of survey results made with the Datylon for Illustrator plug-in.
Animated chart
The animated chart is a type of chart in which different states of the chart will be shown smoothly after each other. According to Stephen Few animated charts will make the information come to life and are perfect to use once a story is already known. Though, for exploring the data on your own, an animated chart is less effective.
Animated charts are a good way to engage your audience and for building up your story. Moreover, animated charts will cause the information presented to be remembered more easily.
Though, we advise you to be careful with using animated charts because they could also be referred to as junk charts. Don't make use of the animated function if it does not add to the clarity of the chart and if you think it will distract the viewer from the message you want to convey.
Animated charts are very convenient to use when you want to show change over time with a bar chart or a line chart, like the example in the visual below by Matt Russel.
Interactive chart
Opposite to the animated chart, with the interactive chart, the user needs to take action (usually by hovering or clicking) to make the chart change or display additional chart elements. This could also be done by zooming in, zooming out, clicking on buttons or tabs, or using an input box to filter the data.
This type of chart is very useful when you want to show a lot of information in one chart which otherwise would be impossible or very difficult. Moreover, if you want to engage your readers or encourage them to discover more details about the chart, this type of data visualization is a good option.
However, interactivity makes it also harder to understand the main message of the chart. Therefore, always consider whether using multiple charts isn't a better option, or whether you even need to show that much information to convey the main message of your data. Moreover, if you ever wish to print your chart, it is very hard to turn your interactive chart into useful print material. In that case, it might be better to use print-ready static charts that could be made with the Datylon for Illustrator plug-in.
In addition, it is also important to take people with limited motor skills into account. For them, it might be a challenge to interact with your chart.
If the advantages outweigh the disadvantages and you decide to create an interactive chart, it is important to think about the user experience. Think about where to place the boxes, drop-down menus, or buttons.
A really nice example of an interactive chart is shown below. It was created by Josh Holder for the New York Times. He mapped the rollout of coronavirus vaccinations around the world and used buttons for switching between categories. Moreover, when hovering over the map, the specific data is being displayed, informing a reader about the vaccination coverage for that particular country.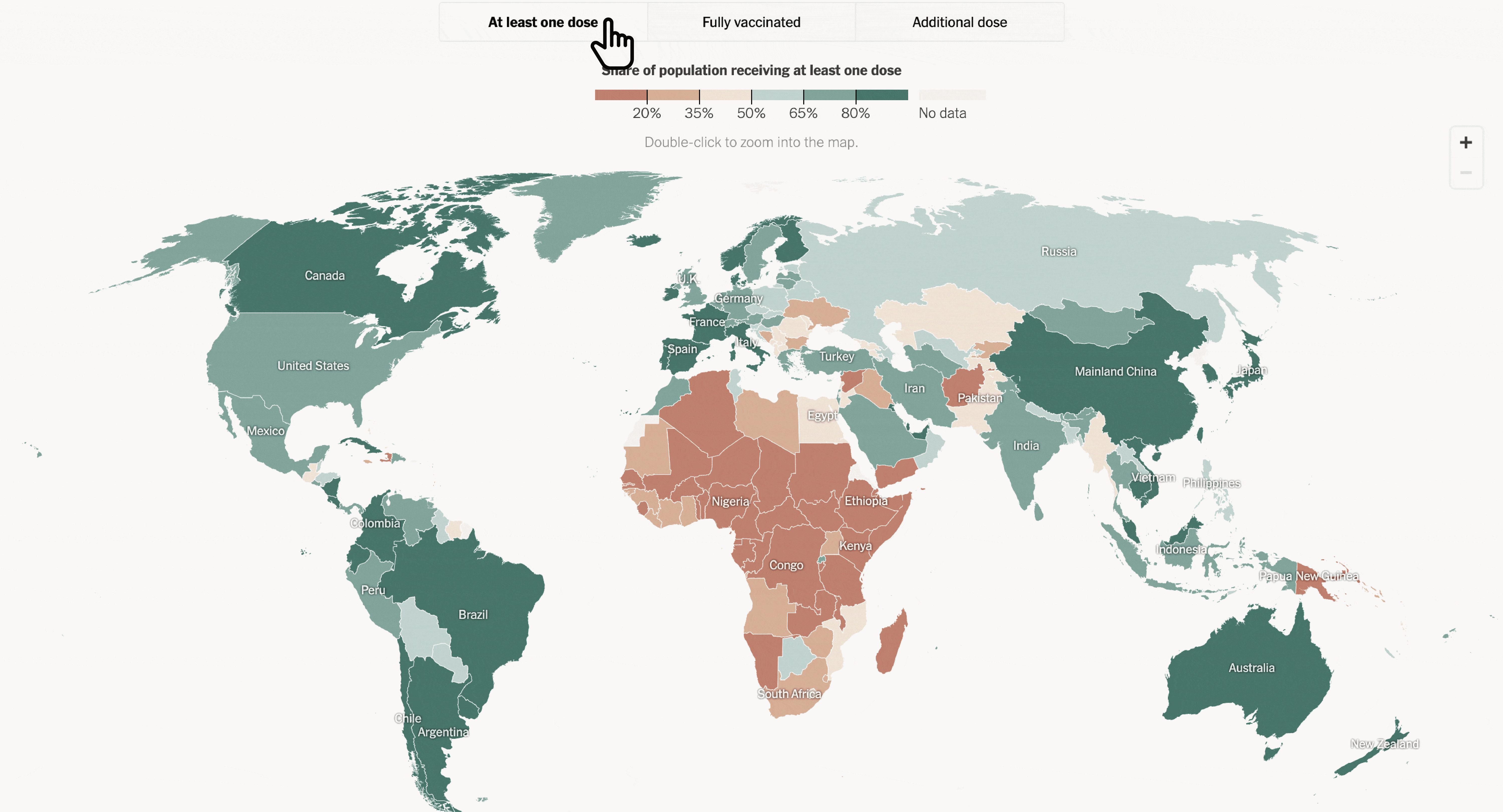 Dashboard
In a dashboard, multiple metrics, such as key performance indicators (KPIs), could be shown at the same time. These metrics are presented in static and/or interactive charts and these charts could be linked to each other. This means that if you are filtering one of the charts in the dashboard, the other charts could be updated automatically as well by this filter. The data in the dashboard is often linked to a database or file and can be updated in real time.
This type of data visualization is often used by organizations to track their performance or progress in a specific area. The ability to filter the data based on the needs and questions of the viewer makes the process of decision-making and optimization much more efficient.
Since there is often no room for explanation in a dashboard, it is hard to understand a dashboard immediately when looking at it for the first time. Therefore, dashboards work best when viewers are already familiar with all the measures used or if there's an interpreter able to explain them. For example, using dashboards during monthly meetings is a good way of using this type of data visualization.
Nowadays, dashboards are becoming part of our daily lives; think about the dashboard in your car, the dashboard of your smartwatch app, or the COVID statistics dashboard that almost every country created during the pandemic.
Check out some of our dataviz and digital projects and custom dashboards we designed recently. Get in touch if you also want to make your data actionable with Datylon.
An example of a commonly known dashboard is the WHO Coronavirus (Covid-19) dashboard. In this dashboard, you can change several metrics after which all charts are updated accordingly. Moreover, there are multiple options to zoom in, zoom out, and hover over the charts to find more detailed information.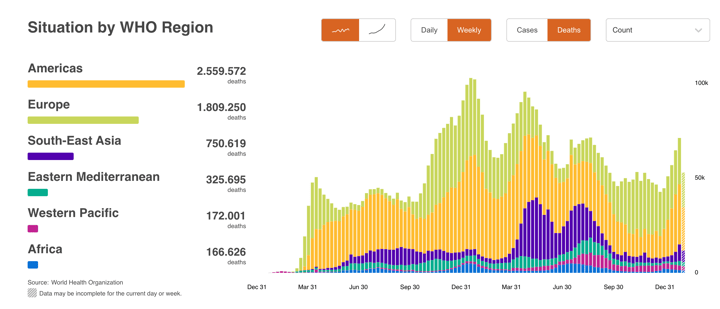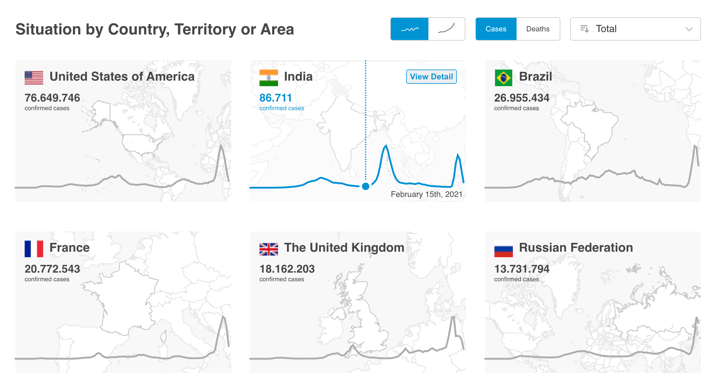 Report
Reports are commonly used by (but not limited to) many businesses and organizations. This type of data visualization often shows multiple types of static charts on one to multiple pages.
Compared to the dashboard, a report consists of many details about a specific topic, whereas a dashboard shows the big picture about multiple topics at once.
A report is often created periodically and printed, for example for the yearly board meeting. Moreover, reports are known and often read by a broad audience such as employees of a company, customers, stakeholders, investors, and even the general public. In addition, reports are created throughout different sectors such as finances and investments, educational institutions, data and technologies, non-profit organizations, and governmental organizations.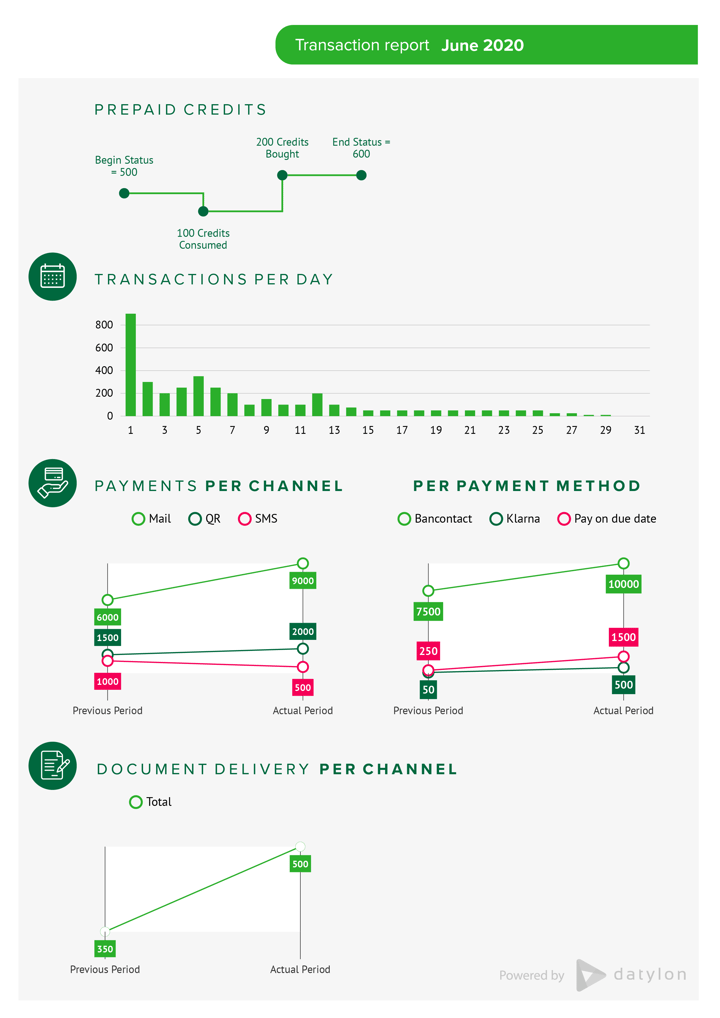 Report created with the Datylon for Illustrator plug-in
With our Datylon for Illustrator plug-in, we made it very easy, uncomplicated, and effortless for you to create your own reports, export them as a template to Datylon Report Studio and use it over and over for your reports by just importing the new data. Moreover, with the Datylon Report Server, you can fully automate your chart and multi-page periodic report production by just fuelling it with new data.
Presentation
Continuing with data visualizations used in organizations, presentations can not be missed. Often people have to share their data with other people in a functional but engaging way. Think about students that have to share their research with their supervisors or employees that have to share their insights with their managers. Here, a presentation comes in handy because of the ability to share information easily and simply.
In a presentation, you can make use of a collection of sheets presented in a specific sequence that can contain charts, texts, or visuals and you can present them on a screen or electronic display device. For displaying data visualizations, most often static charts are used but focal points can be created by highlighting or animating charts one by one.
Since the space on a sheet in a presentation is limited, it requires some reflection on what you show at once. Therefore, very complicated charts can better be shown by another type of data visualization.
When using a presentation to present your data, make sure you don't end up in the chart junk category by using 3D charts or overly using the animation functionality. Moreover, make sure all of the charts you present have the same design and style and are on-brand.
If you are looking for inspiration for your slide deck, Canva is a good option to start with. In the visual below you can find an example of a slide deck with a chart and visuals created by Canva.
Slide deck created with Canva
With our Datylon for Illustrator plug-in you can create beautiful charts and import them as SVG or PNG in Powerpoint, Google slides, or other tools and have your presentation look professional and on-brand.
Infographic
If you want to present multiple charts in one sheet, while keeping it appealing, an infographic is your best choice. This type of data visualization is becoming more popular and displays information using fun and engaging graphics; hence the name infographic.
Infographics often consist of charts, graphic visuals, and texts to communicate information. They are designed to be easily understood by a broader audience and to communicate information quickly. For this reason, charts used in infographics often lack data points and can be somewhat limited.
The design is crucial, as an infographic is often used to engage with the viewers. Examples of commonly used designs for the infographic are a roadmap, timeline, flowcharts, and maps. It's popular to use additional icons and graphics. If you're looking for an easy way to create beautiful graphics for your infographic, you can try using Wepik free design tool.
A beautiful example of an infographic (below) was made by Christina Calvache Quesada for the African Health Organization. She managed to communicate this heavy topic in a simple, aesthetically pleasing, and functional way by visualizing the female organs very subtly.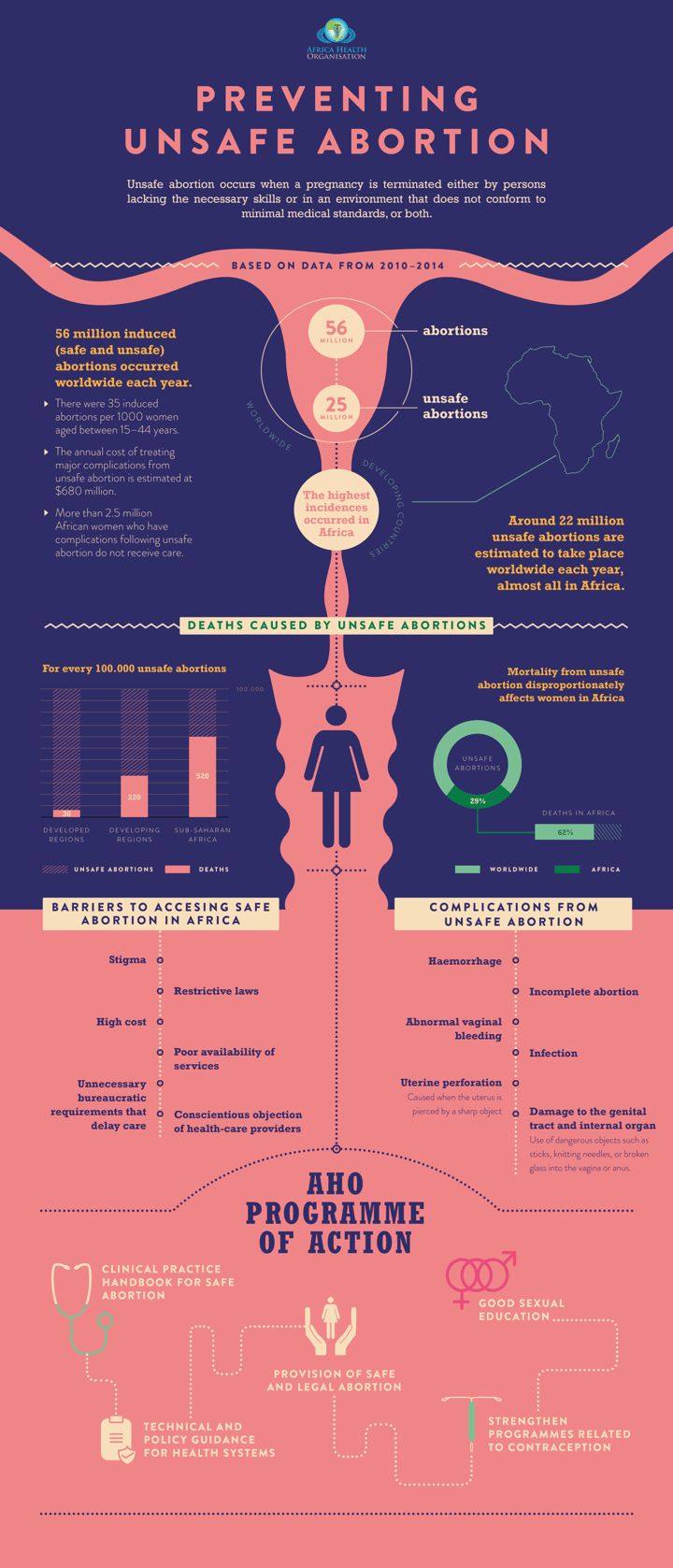 Data story website
If you are looking for a way to tell your data story in an interactive way but also with a lot of space for text, a dedicated website might be a good idea. Creating a website is a really powerful tool for communicating content and stories. Besides, a website is very easy to share and it is available to a broad audience.
Therefore, if you think your data story deserves widespread attention because of its topic or impact, consider creating a website. It might be a lot of work, but in the end, it's worth it.
My favorite data storytelling website is created by Federica Fragapane and Alex Piacentini and shows the route of six asylum seekers. They show that "data visualization can be a tool not only to communicate to people but also to give them a voice".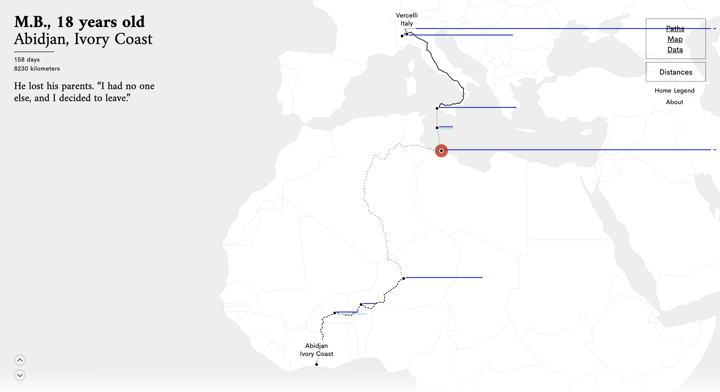 If you are interested in embedding charts into your website, our Datylon for Illustrator plug-in is the way to go. With Datylon Online, charts can be shared online by URL or by embedded code on your website.
Data art
Sometimes your data deserves something better than an average chart. In addition to making a website for your special topic, you could also consider creating data art to grab the attention of the public.
According to TechCrunch: The objective of data art is to create aesthetic forms and artistic works from the digital nature of the data generated from big data". Whereas other types of data visualization try to convey a functional message, data art is a perfect way of conveying emotions to the audience.
Someone who I immediately think of when thinking about data art is Nadieh Bremer. An example of data art created by her is the visualization below where she visualizes CryptoKitties, a blockchain game on Ethereum. Amazing!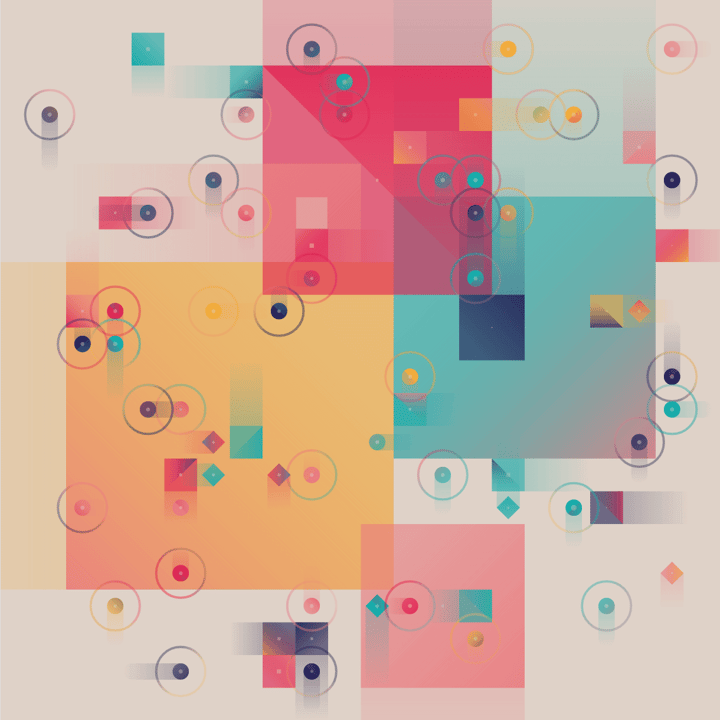 Data art by Nadieh Bremer in the Wanderlust Style.
In this blog, we presented you with 9 types of data visualizations, each with its own functions and benefits. We started with the basis of every data visualization: the basic static chart. Hereafter, we continued with the animated and interactive chart. Then we explored some data visualizations that are commonly used in organizations: the dashboard, the report, and the presentation. To finish we showed you some types of data visualizations to use when your topic deserves a little more attention; infographics, data story websites, and data art.
Now that your knowledge about the way you can display your data is expanded, you can start telling your own data story to your specific audience. With the Datylon for Illustrator plug-in, you can start building your own charts and present them in your infographic, report, website, or slideshow. Have fun!
Further reading & resources

Data, graphic design, illustration, food and mountains let her dopamine neurons spark on a daily basis. Most of the year she lives in Georgia where she spends her free time enjoying nature in a rooftop tent, eating khinkali and drinking wine.