80 types of charts & graphs for data visualization (with examples)

Kosma Hess - Marketing Manager
May 30, 2022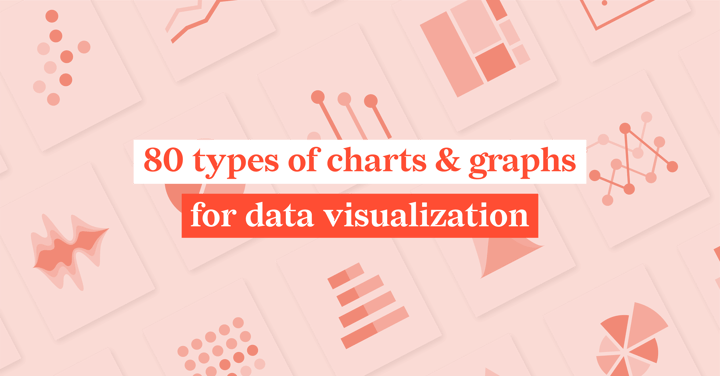 Ask any dataviz expert and they will tell you there aren't many things as annoying as the wrong use of data visualizations. Well, duh. It's easy to say if your job is to know all about it. But what about the rest of us? What about those who don't make a face when they look at a simple pie chart? How do we know when to pick the right chart type and avoid disapproval from the entire community of dataviz geeks and lovers?
First and foremost, ask yourself what is it you actually want to show and who is your audience? Sounds simple, I know. But remember, you can't please everyone. And sometimes, a pie chart is really fine. We don't hate pie charts and actually, there are cases when they're quite appropriate charts to use to communicate data.
Yes, you can try to explore variations and alternatives to different chart types, it is encouraged. But before you gather all of your data and start creating beautiful graphs and visualizations, take a step back for a second and think. Who do you want to show your data to? Are the viewers equally knowledgeable about dataviz best practices? It's very likely that you just want to present your information to someone who needs to easily understand it.
For this reason, it's equally important to consider the right type of data visualization for you.
Read this article if you want to learn about the way you can display your data and how to tell your data story to your specific audience.
Now, if you want to include different charts and graphs in your final product, it's a great next step to explore your options. There are many, many chart types and we won't be able to cover all of them. In this article, we will show you some of the most important charts that can effectively convey a message and communicate your data, creating engaging data storytelling for your readers. Below, you might find charts you are familiar with and some that are less common. Either way, we hope you explore all chart types and find the most suitable ones for you and your data visualization project. The list consists of eighty types of charts and graphs, many of which you can create online for free with Datylon Online, or with our chart maker plug-in Datylon for Illustrator.
We divided the charts below into six categories that vary per use case. Sometimes, some of the charts can fall under multiple categories, so to make it easier, we only listed them once.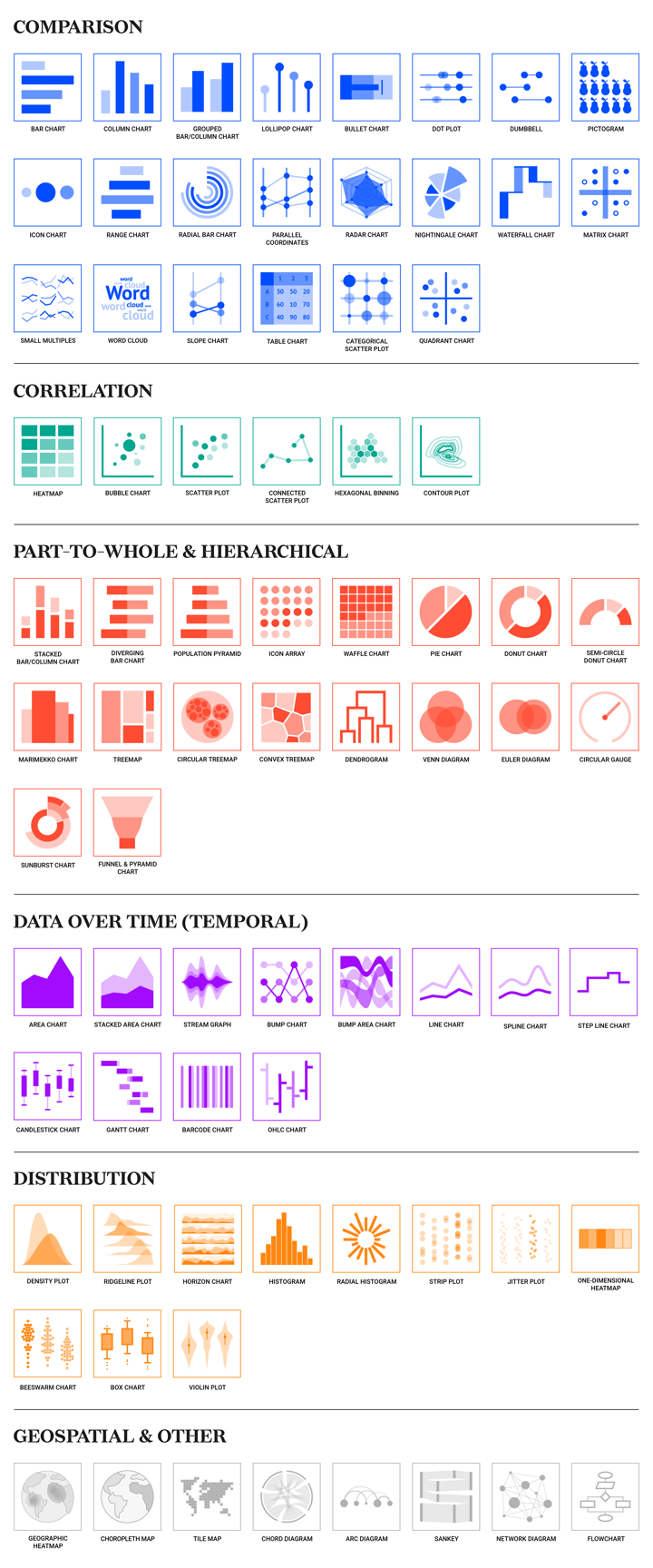 1. Comparison

Bar chart
Alternative name: Bar graph
One of the most common chart types out there. A bar chart is a set of rectangles with a length proportional to the values it represents. Each rectangle – the bar, is a representation of one category. Bar charts are great for comparison. The differences in bar length are easier to perceive, than, for example, differences in size and color.
Bar charts are commonly used charts due to their simplicity. Viewers mostly need to decode their bars' length and position, making bar charts very easy to understand. The general public is fairly capable of reading bar charts, so no additional dataviz expertise is necessary. For this reason, bar charts are doing their job really well. That's why, if the data structure and the actual message you're trying to convey allow for it, you should consider using bar charts in your data visualization.
It's worth noting that to be really correct, bar charts display the bars horizontally. If you turn them 90 degrees, you will get a column chart. But, remember that long labels don't suit column charts because of easy overlapping. You don't have that issue in a bar chart.
If you want to improve your dataviz skills and design the best bar chart, we recommend you read this article. But you can also check our bar chart resource page and discover even more pro design tips. See more bar chart examples here.


Column chart
Alternative names: Column graph, Vertical bar chart
Long story short, you can say that a column chart is the same thing as a bar chart, turned by 90 degrees. Indeed, a column chart is a type of chart that resembles a bar graph with bars positioned vertically. They are often considered the same type of chart but from the dataviz point of view, that's wrong. The main difference between a column chart and a bar chart is in the usage of categorical labels. Long labels don't suit column charts because of easy overlapping. But it might be useful if the labels are short and don't take up a lot of horizontal space. Still, when it comes to design recommendations, you can use our bar chart resource page to learn how to greatly improve the readability of your column chart as well. See more column chart examples here.


Grouped bar/column chart
Alternative names: Paired bar/column chart, Clustered bar/column chart

A grouped bar chart (or a grouped column chart if the bars are positioned vertically) is a multi-series variation of a bar/column chart where every category is represented by several columns communicating different aspects of the main category. Columns of each category are separated from the other categories using spacing. We use this type of chart to compare multiple series. Opposite to a basic bar chart, which doesn't require any data to be formatted, to create a grouped bar/column chart, the data must be first organized. See other grouped bar and column chart examples here.


Lollipop chart
Alternative name: Lollipop plot
A lollipop chart can be a sweet alternative to a regular bar chart if you are dealing with a lot of categories and want to make optimal use of space. It shows the relationship between a numeric and a categorical variable. This type of chart consists of a line, which represents the magnitude, and ends with a dot, or a circle, which highlights the data value. So it probably suffices to say that it is designed to resemble a bunch of lollipops. See examples of similar charts here.


Bullet chart
Alternative name: Bullet graph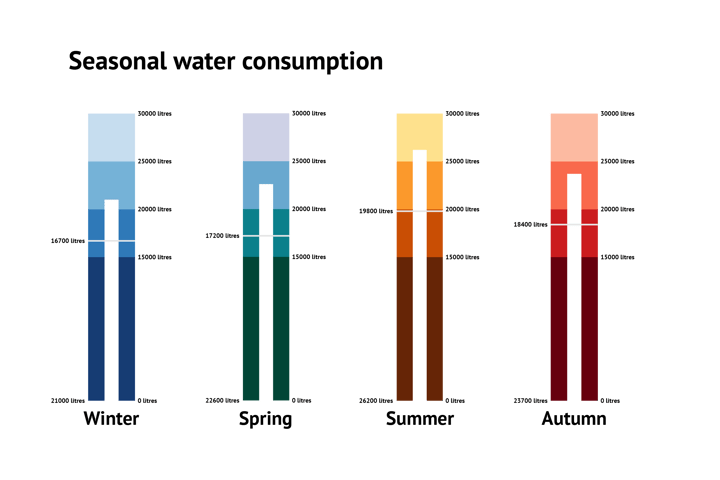 A bullet chart is a type of chart designed to benchmark against a target value and ranges. It's a very space-efficient chart used primarily for displaying performance data. Visually, bullet charts resemble a combination of bar/column charts and progress bars. The results are shown in a single bar or column. The ranges bar is constructed based on values from a category that comparison will be based on (for example competitor sales figures). All these values are then divided into a certain number of sub-ranges (in most cases it's quartiles). Target shows the value which is aimed for. And the bar shows the actual figures. See other examples of bullet charts here.


Dot plot
Alternative name: Dot chart
A dot plot (shows one or more quantitative values per category by plotting one or more dots per category on a numerical (or date-time) axis. A dot plot with only one value per category makes a comparison between those categories very easy. When the dot plot has multiple values per category, you can also compare within the categories. This results in a chart type that packs a lot of information in a small space. This chart may need gridlines that turn a dot plot into a chart with a proper context. We wrote a very interesting article about dot plots.
Make sure to also check our dot plot resource page and discover pro design tips. And if you want to see other dot plot examples, click here.


Dumbbell
Alternative names: Dumbbell plot, Dumbbell chart, Connected dot plot, Dumbbell dot plot, DNA chart, Barbell chart
A dumbbell is a type of dot plot with two connected values per category. Use it when you want to emphasize the delta (change) between the two values (data points, i.e. two points in time) and to compare and visualize this size in a difference between these two values across all categories. A dumbbell consists of dots (or circles) and connectors (or lines). Not adding marks and only leaving the connector makes it a range chart. We mentioned dumbbells throughout this article. And you can see similar chart examples here.


Pictogram
Alternative names: Pictorial chart, Proportional unit chart, Picture graph
A pictogram chart is a type of chart that uses icons or symbols, or even small images, to represent data. Each of these icons corresponds to a certain category. Pictogram charts to some extent resemble bar charts, but instead of using a bar, they show icons. Some data visualization experts might argue this type of chart is very basic, to the point that it's widely used in schools and kindergarten. While this is true, it's also very important to keep in mind that using a pictogram chart helps overcome language barriers and it's really easy to interpret. Moreover, it makes your data story memorable!


Icon chart
Alternative name: Proportional area chart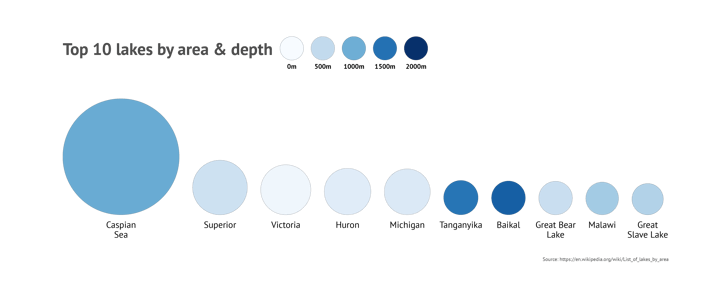 An icon chart will be a perfect choice if the position of the marks is not driven by data. Values can be bound to the color and size of the icons. The icon chart uses area rather than length to visualize values, which allows it to display a larger range of values in a compact way. But keep in mind, if you're planning to use an icon chart in your visualization, it's important to use the area and not the radius to present your value. This helps better compare the icons visually, as the difference between the categories will be much bigger if you use the radius. This will be misleading to your readers. See other icon chart examples here.


Range plot
Alternative name: Range chart
A range plot sometimes looks like a bar chart. The difference is that a range plot shows two values of a category, instead of just one. A range plot shows two points with a connecting line between them. This line indicates the difference, or a gap, between these points and suggests a direction of such change. So using this type of chart is great if you want to highlight this difference, rather than the values themselves. A use case example is any sort of demographical gap, i.e. gender pay gap. See examples of similar charts here.


Radial bar chart
Alternative name: Circular bar chart
A radial bar chart is simply a variation of a regular bar chart with the main difference being the circular shape of the chart. The chart itself is plotted on what is called a polar coordinates system. It means that each bar appears in a circle. The larger the value, the longer the bar. What's really great about radial bar charts is they are really beautiful, even impressive charts that can be used to compare key metrics in your data. The challenge that comes with using radial bar charts is that they're not the easiest to interpret. Some websites refer to radial bar charts as multilayered donut charts or multi-level doughnut charts but it's worth pointing out that it's not the same type of chart. This website describes it more in detail.
Parallel coordinates
Alternative names: Parallel plot, Parallel coordinates plot
The parallel coordinates chart resembles a line chart, but instead of time values, categories are plotted on the horizontal axis. It allows you to plot a multitude of categories/dimensions without compromising the readability in a simple 2d space - all of the dimensions follow the same pattern. A dimension can have both a separate axis or just one of the gridlines if all the dimensions share the same data range. The simplicity of the chart, however, adds some limitations. Maximum two neighboring dimensions relationships can be followed at a time, so the ordering plays a crucial role in this chart.


Radar chart
Alternative names: Spider chart, Spider graph, Web chart, Spider web chart, Star chart, Star plot, Cobweb chart, Irregular polygon, Kiviat diagram
A radar chart shows a comparison between multiple data points or groups (minimum of three). It consists of several axes, all coming from the same point in the center (which resembles a spider web). Although it's a very interesting chart to use, it's important to keep in mind that it is harder to read. As it is designed in a circular fashion, it requires extra visual perception, in contrast to the more common linear types of charts and graphs. It is often easier to replace it with another type of chart. If all axes in your chart have the same scale, then a bar chart or sometimes a lollipop will suffice. If the axes have a different scale, it's good to use parallel coordinates.


Nightingale chart
Alternative names: Nightingale's graph, Nightingale rose chart, Rose diagram, Coxcomb chart, Polar area chart
This chart is visually similar to a pie chart, but a Nightingale chart does not communicate a part-to-whole relationship. It compares values between categories like a bar chart does, only this one is radial.
Waterfall chart
Alternative names: Flying bricks chart, Mario chart, Bridge chart, Cascade chart
A waterfall chart is a type of graph that usually shows positive and negative values of change between two points, which helps in understanding the cumulative effect of these changes (so the net change). This chart does not only look at the starting value and the ending value of your data set but also visualized each individual positive or negative change that happened. As you can imagine, this type of chart is quite useful in financial sectors or human resources, but also in other industries (think of inventories, revenue tracking, etc.). Last but not least, the waterfall chart takes its name from the fact it looks like a waterfall. In the chart, the first value (column) typically starts from the baseline of zero, as does the ending value. They are connected by a number of seemingly floating shorter bars (that represent the said changes). The whole shape of the chart resembles then a waterfall.


Matrix chart
Alternative name: Matrix diagram
A matrix chart is a very common type of chart that helps in visualizing the relationship between two or more variables in a data set. Specifically, it shows the presence and strengths of such relationships and it does so in a grid format. It can have six different forms (shapes) depending on how many groups must be compared (L, T, Y, X, C, R, and roof-shaped). This chart usually presents a huge amount of data, so its visual display is limited. A matrix chart is very suitable for (but not limited to) project managers.
Small multiples
Alternative name: Trellis chart, Lattice chart, Panel chart
Unlike all the other graphs in this article, Small multiples are more of a visualization concept than a graph itself. That is because Small multiples use the same type of chart in it and multiply it within a grid to show different slices of the data set. The main advantage of using small multiples is the possibility of showing three or (usually) more variables presenting different values in the same graph without confusing your audience. If you go for this type of data visualization, make sure not to apply multiple colors in the charts as it might decrease the readability. You can find more Small multiples examples on our Inspiration page.
Word cloud
Alternative name: Tag cloud, word collage, wordle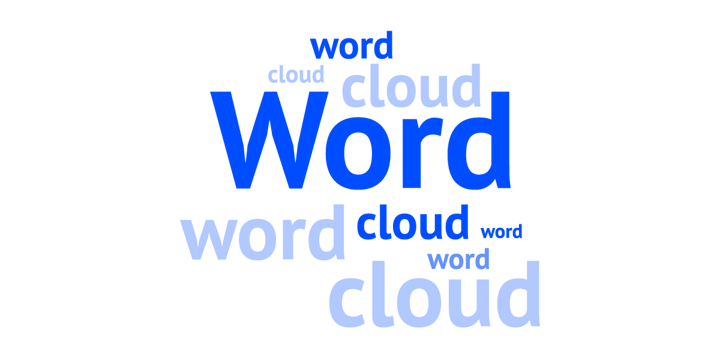 A word cloud is not a typical type of chart but it deserves its place in this list as it still is an instrument used to visualize qualitative (text) data. A word cloud is nothing more than a visual cluster of different words which vary in size accordingly to their frequency within the data set. In other words, the more often a certain word (or a keyword) appears in the text, the bigger (and perhaps bolder) it will be in a cloud. This type of chart is quite common across so many industries and segments. It can be a great visualization tool for students working on their dissertation who want to analyze their interviews. But just so you know, there are much more creative ways to show qualitative data. Check for example this chart!
Slope chart
Alternative name: Slopegraph
A slope chart is a chart that emphasizes the evolution between two values by using the angle of the slope to communicate the difference. It can be a change over time or a transition. A slope chart can be a good alternative for a line chart, grouped- or stacked bar chart, if we only have two points in time we want to address. See other slope chart examples here.
Table chart
A table chart is a chart that helps visually represent data that is arranged in rows and columns. Throughout all forms of communication and research, tables are used extensively to store, analyze, compare, and present data.
Categorical scatter plot


A categorical scatter plot differs from a regular scatter plot by the presence of a categorical axis. It can be just one categorical axis or both of them. A categorical scatter plot can be quite similar to a dot plot. See other scatter plot examples here.

Quadrant chart
Alternative names: matrix diagram, matrix chart, 4-quadrant matrix chart
A quadrant chart is very similar to a scatter plot but it's divided into four equal parts (quadrants) in a 2x2 matrix. It is useful if we want to group distinctly data marks for some specific type of analysis. One of the best and most well-known examples of using the quadrant chart is for a SWOT analysis.
---
2. Correlation (relational)
Heatmap
Alternative names: Heat map, Heat table, Density table
A heatmap shows data variances, such as patterns, trends, and correlations. It does this by using color, hue, or intensity, as well as data labels, as a direct representation of the values. By adding a date or a time scale on the x-axis it shows how the values evolve over time. The data in a heatmap is structured as a table. Using a heatmap as a chart lets you explore the data and gives hints on where to look for outliers, other viewpoints, or specific angles. If you would like to explore the fascinating world of heatmaps, we definitely recommend you this article.
Also, make sure to check our heatmap resource page and discover pro tips on how to design the best heatmap chart yourself. And here you will find more heatmaps examples.


Bubble chart
Alternative name: Bubble plot
Deriving from a scatter plot, a bubble chart is a chart that looks at a relation between three (numeric) variables. Two of those variables are represented by dots located between axes. The third value is represented by the size of a bubble. But with some expansions, a bubble chart can represent up to seven variables at once. But as it's very easy to overwhelm a reader with too much information, it's better not to plot too many variables. Being really popular among researchers and analysts, a bubble chart is also a chart with one of the best data/space ratios. One of the most interesting things about bubble charts is that they can be colored in many different ways. Make sure to check out this blog post taking a closer look at bubble charts.
Also, refer to our bubble chart resource page and discover pro tips on how to design the best bubble chart yourself. And if you want to see other bubble chart examples, find them here.


Scatter plot
Alternative names: Scatterplot, Scatter chart, Scattergram, Scatter diagram, Scatter graph

A scatter plot shows values for two numerical variables by plotting them as dots between horizontal and vertical axes. Simple one-sized data marks give a clear view of every observation's positioning in a two-variable plane. A scatter plot is often used to show correlations between numeric variables and identify patterns. Being a swiss knife among the charts, a scatter plot is usually the first one for data exploration. It is a chart with one of the best data/space ratios. A scatter plot is also known for its versatility. It gives a lot of inspiration to infographic designers and data visualization specialists. It can be turned into almost any chart: heatmap, dot plot, icon chart, tilemap, or some hybrid chart. Here you will find more scatter plot examples.


Connected scatter plot
Once upon a time, a line chart fell in love with a scatter plot. Were they to have a baby, it would look exactly like a connected scatter plot. This type of chart consists of a scatter plot with two variables and a line drawn between the dots in a continuous path. See other scatter plot examples here.
Hexagonal binning
Alternative names: hexagonal plot, hexagonal bin plot
A hexagonal binning is a method that uses hexagons in order to show the density of the data points. It is a good alternative to a scatter plot if the data gets too dense to interpret. The hexagons are binned into the area of the chart, and the color or hue (color intensity) is assigned accordingly to the number of observations it covers.


Contour plot
A contour plot allows you to visualize three-dimensional data in a two-dimensional plot/plane. Contour plots are typically used in cartography, as their contour lines can nicely indicate elevations. But they can also be used in meteorology, astrology, and similar scientific fields, where the contour lines would represent density or temperature.
---
3. Part-to-whole & hierarchical

Stacked bar chart & stacked column chart
Being a variant of a bar chart (or a column chart, if plotted vertically), a stacked bar/column chart shows a relation of stacks to the whole bar or column and relations between whole bars/columns. The whole bar/column can be also presented as 100%. In this case, the stacks show a relative part to the whole bar/column in percentages. You can find more examples of bar charts here.

Diverging (stacked) bar/column chart
A diverging bar chart (or, if plotted vertically, a diverging column chart) is a chart that resembles a regular bar chart. However, a crucial difference is a baseline located in the middle (usually corresponding to a zero) and the bars extending to both sides of this midpoint. Often used to display results of a questionnaire or a survey, but definitely not limited to this use case, as seen in the example above. In a diverging bar chart, we use contrasting colors to show the categories being compared. A very common variation of this chart is called a 'diverging stacked bar chart', which adds additional segments. In other words, it's very similar to a regular stacked bar chart but with an extra baseline in the middle. But a diverging stacked bar is a very good alternative to a stacked bar chart since it is easier to compare the stacks with it. That is because the stacks here share the same baseline, which makes comparison much easier. See more bar chart examples here.


Population pyramid
Alternative names: Age-sex pyramid, Age structure diagram
Very similar to a diverging bar chart, a population pyramid is a type of chart that specifically visualizes the age and gender distribution across populations. Typically used by demographers, population pyramids can be a very simple and nice addition to many reports. You can find other bar chart examples here.


Icon array
Alternative name: Pictograph
An icon array is a graph that clearly visualizes a proportion of a unit. Icon arrays use a matrix of icons, usually a 100. Each one of those icons represents a unit of something (i.e. people). A portion of the icons is then colored to represent a numerical value in our data. The rest of the icons can be greyed out or even absent. A very common type of graph, icon arrays are extremely easy to interpret. You can see more icon array examples here.


Waffle chart
Alternative names: Square pie chart, Square area chart, Gridplot
A waffle chart is very similar to an icon array. However, instead of using different icons, it consists of a grid of 100 square (or even round) cells. Each cell represents 1%. This grid pattern typically displays progress towards a target (or a completion percentage) but can be also used to show parts-to-whole contribution. Waffle charts are often called a square alternative to a pie chart and are very easy to interpret. And they do look like waffles. See examples of similar charts here.


Pie chart
Alternative names: Pie graph, Pizza chart, Circle chart
Arguably the most popular type of chart, a pie chart is a circular graph that visualizes a part-to-whole relationship. It shows how the data is divided into categories with a certain value (the slices), but it always keeps the link between the value of one category and the total sum of those categories (the pie). This means that the slices should add up to a logical sum. If the data is in percentages, the total should round up to a hundred. If the data is in absolute values, for example in dollars, the categories should form a meaningful total. A pie chart works best with only a few categories, otherwise, the chart becomes an unreadable clutter. It is also very suitable when one category is very big or very small compared to the other categories. Pie charts are often ridiculed by dataviz specialists. Read this article to see our arguments for using pie charts. And if you want to create a really good pie chart yourself, don't miss out on this resource page full of pro design tips. And find more pie chart examples here.
Donut chart
Alternative names: Doughnut chart
A donut chart is practically the same thing as a pie chart, with an obvious difference of an empty round hole in the middle, making it resemble a donut. However, the data-ink ratio of a donut chart is better than that of a pie chart and the data is depicted by the length of the sectors, rather than the surface, which is easier to interpret. Another advantage of a donut chart is that the space in the center can be used to add a title or a significant value derived from the data. For your convenience, we also created a donut chart resource page with valuable design tips for your next donut chart. Here you will find more examples of pie and donut charts.


Semicircle donut chart
Alternative name: Half moon chart, Half donut chart, Semi-circle doughnut chart
This chart works the same as a normal pie or donut chart, only the sum of all categories results in half a circle instead of a full circle. It can serve as a basis for a gauge chart, by using the slices to show progress or by adding a pointer. We have more pie and donut chart examples here.


Marimekko chart
Alternative names: Mekko chart, Mosaic chart, Mosaic plot
A Marimekko chart is a type of two-dimensional stacked chart that depicts data through varying heights of different segments and widths of columns. These columns are scaled to fill up the entire available chart area. They can be hard to read, especially if there are many segments. Although Marimekko charts can be used to visualize different types of data, they are most commonly used for analyzing marketing and sales data.


Treemap

Treemap charts come in handy when you are dealing with large numbers of categories with a hierarchical structure. A treemap consists of multiple categories and each category in the treemap is given a rectangle. The categories could be subdivided into smaller rectangles if you are dealing with subcategories in the data. The size of the area of the rectangles communicates the value. Therefore, treemaps are very useful charts in finding relationships fastly, both within and between categories. Another benefit of a treemap is the efficient use of space which makes it easy to show a lot of data at the same time. If you're curious about the history and different features of a treemap chart, you can't miss this deep dive article. We also have a very elaborate resource page for you to check out before you start making your own treemap.


Circular treemap
Alternative name: Circular packing, Circle packing
This type of treemap consists of circles instead of squares, which makes them a bit less space-efficient. Though, because of the space in between the circles, the groups and subgroups are presented very neatly. Moreover, when designed properly, the circular treemap could be really pleasing to look at.


Convex treemap
Alternative names: Voronoi treemap, Polygonal partition
A convex treemap is essentially the same thing as a regular treemap but with convex polygons instead of rectangles. With this type of treemap, it is possible to create treemaps within arbitrary shapes like circles, triangles, or any shape you can think of. Convex treemaps are great if you wish to show grouping and relations instead of the hierarchical structure typically found in a regular treemap. We presented a very nice example of such a treemap in this article that generally looks closely at treemaps.


Dendrogram
Alternative name: Phylogenetic tree
To put it simply, a dendrogram is a diagram representing a tree or a network structure. Consisting of stacked branches, it is used to visualize taxonomic relationships (hierarchical relationships between objects). Dendrograms are commonly used in biology to show the clustering of genes but they can illustrate any type of grouped data.


Venn diagram
Alternative name: Set diagram, Logic diagram
Originating in the 1800s, Venn diagrams are widely used within different industries to illustrate relationships (i.e. commonalities or differences) between two or more sets. This type of graph is commonly used in presentations and reports. They are closely related (and similar) to Euler diagrams with the difference that the Euler diagram will omit a set if no relationship exists.
Euler diagram
Euler diagrams are very similar to Venn diagrams, so it's not surprising that people may occasionally confuse the two. The main difference is that the Euler diagram (which is pronounced Oy-ler) will omit a set if no relationship exists. What does it mean? A Venn diagram shows all possible logical relationships between a collection of sets, while an Euler diagram will only show the relationships that actually exist in real world. If you're curious to understand it better, we recommend this article that explains the difference between both charts.
Circular gauge
Alternative names: Angular gauge, Radial gauge chart
A circular gauge is a type of chart that uses a circular or half-circular scale with a needle indicating a value on that circular scale. For this reason, it resembles a speedometer or even an analog clock. The interesting thing about circular gauges is that they are so easy to customize and can take so many different, visually interesting forms. This type of chart is extremely useful in all sorts of dashboards.
Sunburst chart
Alternative names: Multi-level pie chart, Multilayer pie chart, Sunburst graph, Ring chart, Radial treemap
A sunburst chart has many names but whatever you call it, it's still a spectacular type of graph. It shows a hierarchical dataset through a series of concentric outward rings. Each of those rings corresponds to a different hierarchy level. The inner circle looks like a donut chart, but each outer ring can be sliced up depending on its relationship to the inner (parent) circle. Sunburst charts are often a good alternative to treemaps, but if you do opt for this type of chart, keep in mind that its radial layout takes more space than a rectangular shape of a treemap.
Pyramid chart & Funnel chart
Alternative name: Triangle chart
If you work in sales or marketing, this type of chart definitely won't be new to you. A pyramid chart and a funnel chart are visually almost the same - if you flip a pyramid chart, you get a funnel chart. Funnel charts are very commonly used to visualize the flow of users through a business or sales process. This information is usually paired with the revenue or potential revenue amount at each stage of the funnel. They are widely used in infographics and business presentations or dashboards. In the pyramid chart, each level of the pyramid indicates a different level of hierarchy (among the topics).
---
4. Data over time (temporal)

Area chart
An area chart is similar to a line chart. Data values are plotted in a similar way, and connected with lines. The difference is that the area between these lines and the x-axis is filled with a color. This helps in visualizing the change in volume over time. It doesn't focus on specific data values but more on showing a general change that occurs over a period of time. Here you will find more area chart examples.


Stacked area chart
Alternative name: Stacked area graph
A stacked area chart is a variation of an area chart. It visualized the evolution of multiple data series (value of several groups) over time. See other stacked area chart examples here.


Stream graph
Alternative names: Streamgraph, ThemeRiver
A stream graph is undoubtedly one of the most beautiful chart types available. This stunning type of chart derives from a stacked area chart, from which it differs by using a central baseline rather than a fixed axis. A stream graph then visualizes different values (compound volumes) around the baseline. This creates a visualization that resembles a river-like stream. The shape of the stream, which consists of peaks and troughs referencing different values over time, can also indicate seasonal patterns. See more similar chart examples here.


Bump chart
A bump chart is a very good choice if you're interested in showing rankings over time. Since every step in ranking has the same size, this type of chart is not useful in showing the data precisely. See other bump charts and line charts examples here.
Bump area chart
A bump area chart (or an area bump chart) is a variation of a bump chart that instead of only displaying the ranking over time also shows the values on the y-axis. This helps in visualizing the number of different categories over time and their ranking. If you were to compare this chart to a stream graph, they're actually visually not so far from each other. However, a bump area chart sorts the categories based on their ranking. So in other words, a bump area chart shows both magnitude and rank. And it's also a stunning chart.
Line chart
Alternative names: Line graph, Line plot
A line chart is a type of chart that comes in very handy when showing overall trends or progress. Line charts are among the oldest types of charts and are still one of the most popular. They are versatile, simple, and easy to understand. They can show a lot of information at once. What's really nice about line charts is that they can be also very easily applied onto or merged with other charts like the bar chart or the area chart. In a line chart, the data points represent two variables and are connected by a line to show the changing trend of the data. The x-axis or independent axis shows a continuous variable (usually time) and the y-axis or dependent axis contains a numerical value for a metric of interest. If you'd like to design really stunning line charts, make sure to see our line chart resource page full of great tips and more line chart examples.
Spline chart
Alternative names: Spline graph, Curve chart
A spline chart is functionally the same thing as a line chart. The only difference is that a spline chart connects data points using a smooth curve, whereas a regular line chart uses a straight line to join those points. For this reason, a spline is also known as a curve chart. A combination of an area chart with a spline chart creates a variation called a spline area chart. Find here examples of similar charts.


Step line chart
Alternative names: Step chart, Stepped line graph
The step line chart only uses horizontal and vertical lines to connect the data points. It is convenient to use when you want to highlight the exact moment in time when the data changes and is, therefore, helpful when you must deal with data that changes in irregular intervals. See more examples of similar charts here.


Candlestick chart
Alternative name: Japanese candlestick chart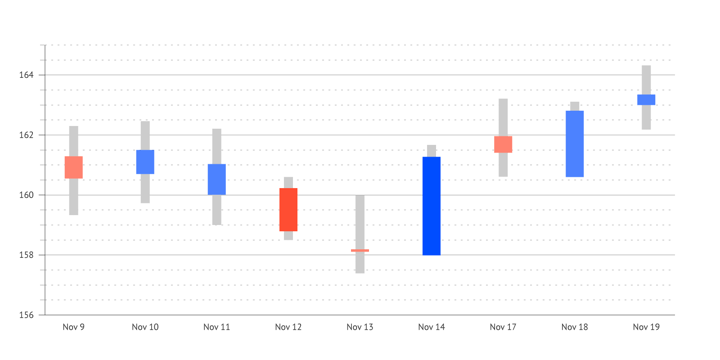 A candlestick chart is a chart typically used in the financial industry. It helps visualize the price movements over a period of time. For this reason, it helps detect and predict market trends. This type of chart is almost exclusively associated with stock price information. If you're interested in designing a candlestick chart and adding it to your financial report, it's possible to create it with Datylon for Illustrator. You can read more here.


Gannt chart
A Gantt chart is a graph that typically shows activities or tasks performed against time: a project plan over time. Used in project management, it helps in tracking project progress, schedule, changes, etc. In other words, a Gantt chart shows what has been done and what still needs to be done. However, it's worth noting that although this type of graph is most commonly used in project management, it is definitely not limited to it. The idea behind this chart is that it visualizes the start and end time in form of period blocks. Therefore, it can be also used to illustrate seasonal occurrences, such as the availability of different fruits and vegetables throughout the year, or the appearance of mosquitoes in different months of the year.


Barcode chart
Barcode charts are used when one of the dimensions of the dataset is extensive while the space is limited. Barcode charts can be created in several ways. The first is to place a row of thin bars along the horizontal axis. It can be useful as an alternative to a strip plot when the density of data marks is too high and individual elements can be hardly recognized. The second way is to use the thickness of the bar for binding an additional dimension. The color is also often used to show a few states of the bar. In most cases the number of colors is limited due to bar width - it's hard to recognize a wide range of colors when the bar is very thin.


OHLC chart
The OHLC chart's name stands for Open-High-Low-Close Chart. This type of chart is nearly exclusively used in the financial sector. It helps visualize price changes over time, typically in a trading stock market.
---
5. Distribution

Density plot
Alternative names: Kernel density plot, Density trace graph
A density plot is a type of chart that helps us visualize how the numeric data is being distributed over a period of time. Density plots somewhat resemble smooth peaks and valleys plotted between two axes. These correspond to a higher or lower concentration of values. A density plot is a variation of a histogram. However, it is visually more appealing, as it loses the sharp edges typical for histograms and adds a smooth continuous curve. Find more examples here.


Ridgeline plot
Alternative names: Joy plot, Joyplot
A ridgeline plot is a somewhat special type of chart. A ridgeline plot shows the distribution of a numeric value for several groups of a category. It is done by illustrating partially overlapping line plots (that can be made of density plots or histograms), which then can resemble a mountain range. This beautiful chart can be useful to visualize distribution over time or space. But what is the most interesting about it is its history! The alternative name for a ridgeline plot is a joy plot because this very example above appeared on the first album cover of the British band Joy Division ('Unknown Pleasures' from 1979). See other examples of similar charts here.


Horizon chart
The horizon chart is for some an unfamiliar chart. Though, it is definitely worth getting to know this type of chart. When you are dealing with a lot of categories and you want to make efficient use of space, this chart is the way to go. It is perfect to show time series data on the horizontal axis and with colored bands, the values are represented on the vertical axis. The use of colored bands makes it possible to show great precision of the values.

With the use of a diverging color scheme, it is even possible to show both positive and negative values. The difference with other charts is that both the positive and negative values are shown above the baseline, instead of showing negative values under the baseline. This allows you to show a lot of data in a very condensed manner.


Histogram
Alternative names: Frequency distribution graph, Frequency distribution chart
A histogram is a type of chart that visually resembles a column chart. It's a graph that consists of vertical rectangles (columns), whose length is proportional to the frequency of a variable (data items). The main visual difference between a histogram and a column chart is that there is no empty space between each rectangle. That's because, unlike in column charts, in a histogram, the numbers are grouped into ranges. Then the columns have different heights because they correspond to the frequency of each group - meaning, how many items fall in a certain range.


Radial histogram
Alternative names: Angular histogram, Circular histogram, Polar histogram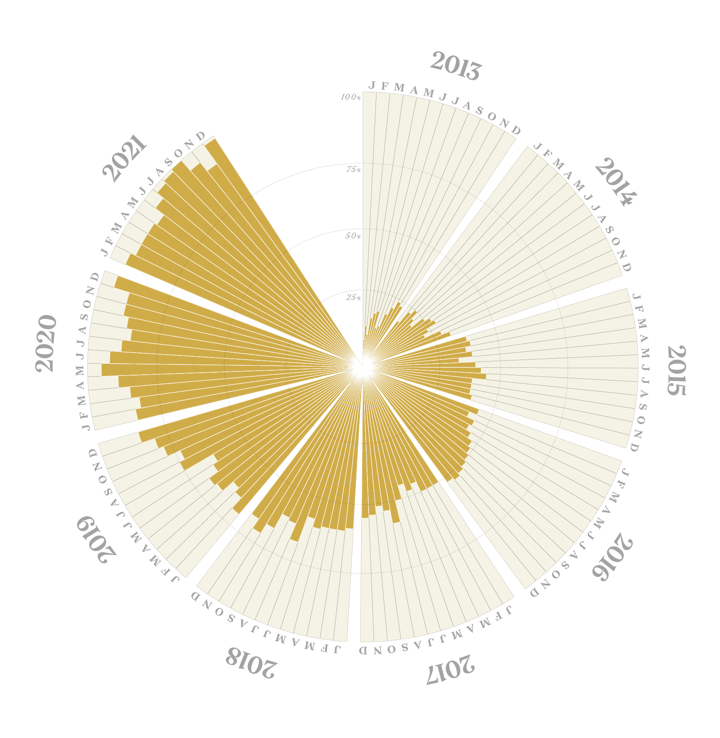 A radial histogram is simply a variation of a histogram (see above) but with columns wrapped around a circle. It functions the same way as a regular histogram. And it's very likely going to grab your readers' attention. See examples of similar charts here.


Strip plot
Alternative names: Individual value plot, Single-axis scatter plot
A strip plot is a type of scatter plot but it only has one categorical and one numerical axis. It is a chart used to illustrate the distribution of many individual one-dimensional values. These values look like dots located along a single (category) axis in this chart. If some of the dots have the same value, they can overlap, creating something that looks like a strip.


Jitter plot
Alternative names: Jittered strip plot, Jittered individual value plot
A jitter plot is an alternative to a strip plot (see above). It is used to visualize the relationship between a measurement variable and a categorical variable. The main difference from a strip plot is that the dots used in the charts are shifted on the horizontal y-axis, to avoid overlapping (overplotting), which in turn allows avoiding lack of clarity.


One dimensional heatmap
If you want to zoom in on one category and focus on the evolution of that variable, you can use heatmaps in only one dimension. These charts are very popular in climate communication and often visualize temperatures.


Beeswarm chart
Alternative name: Swarm plot
A beeswarm chart is like a dot plot with a lot of values per category. These values are each represented by one dot, and the swarm of dots represents the distribution found in the data. Instead of packing them in bins, the dots are scattered around each other and plotted on one single axis. This kind of chart is very useful when you want to display a lot of data points at once.


Box chart
Alternative names: Box plot, Boxplot, Box-and-whisker plot/chart, Whisker plot
A box chart uses boxes and lines to depict the distributions of one or more groups of numeric data. They are meant to provide a high level of information at glance - a summary of data. In a box plot, boxes are the main part of the chart, and they represent the range of the central 50% (middle portion) of the data. There is also a line visible within the boxes that indicates the median value. The remaining half of the data is visualized with the lines (whiskers) extending out of each box. This type of graph is quite popular in the research and financial fields. See similar chart examples here.


Violin plot
A box chart (above) can be useful for comparing summary statistics (such as range and quartiles), but it doesn't let you see variations in the data - unlike a violin plot. This type of chart is a hybrid of a box plot and a density plot. Thanks to this, a violin plot depicts distributions of numeric data for one or more groups using density curves. Of course, visually, it resembles a violin, hence its name.
---
6. Geospatial & other charts
Geographic heatmap
Alternative names: hot spot map, geo heat map, density heatmap
A geographic heatmap is a geographical representation of data that demonstrates where something occurs, specifying the areas of data's high and low density. Unlike a choropleth map, a geo heatmap does not limit displaying geospatial data to specified boundaries. Therefore, using the data's location radius, it can cover a small and specific geographic area, as well as large regions, such as oceans or coasts. It uses color to highlight the areas of occurrence.


Choropleth map
A choropleth map is a type of map in which different administrative areas are colored (or shaded) according to the magnitude of their numeric value. The main difference between a choropleth map and a geographic heatmap is that a choropleth map uses border-defined areas, such as countries, states, or neighborhoods. A common example of the use of choropleth maps can be a visualization of population density.


Tile map
A tile map is a type of geographical map where a larger area (usually a country or a continent) is visualized by multiple equal-size and shape tiles, often square rectangles. Each tile represents a different region. A simple example of a tile map can be a collection of tiles forming the shape of the United States, where each tile corresponds to a state. What is important about tile maps is that all tiles don't vary in size, meaning that larger regions can't dominate the visualization and smaller regions are not harder to read.


Chord diagram
A chord diagram is used for showing the structure of paired connections between the instances of the same level. Every instance is represented by an arc. Every connection is shown as a band with various start and end widths which depicts differences in input and output. Common examples of chord diagrams vary from international trade flows to text and script analysis.


Arc diagram
An arc diagram in its essence is similar to a chord diagram. While the chord diagram focuses mostly on the quantitative aspect of the connection, the arc diagram is more focused on the existence of the link. The arc diagram shows the connections between points that are placed on the line axis with the arcs. Arcs could be placed on both sides of the axis showing the different aspects of the connection. Although the focus of the arc diagram is to show the existence of the connection it can also be used to show the quantitative aspect of the connection using the thickness of the arc.


Sankey
A Sankey diagram is a type of visualization that allows you to display flows from one set of values to another. It shows entities that represent the values and connects them by links, or flows. Each flow has a varying height, which depends on its quantity. They can also differ in color. For this reason, it's really common to use Sankey diagrams in visualizing supply chains, engineering and production processes, energy efficiency, etc. A known example is Google Analytics, which uses Sankey to depict the customer journey between pages of a website., The disadvantage of using this otherwise really beautiful graph is that inexperienced users will find it difficult to digest this visualization. Sankey diagrams are very often also called Alluvial diagrams. For an untrained eye, they will indeed appear to be the same chart. There is, however, a bit of a difference between the two. If you're interested in learning more, we found this post quite a nice resource.


Network diagram
Alternative names: Network graph, Network mapping, Network visualization

A network diagram is used to show the connections between multiple elements. The structure of the data and the purpose is somehow similar to the arc diagram. But while in the arc diagram, all of the points are placed on the same line, in the network diagram positioning of the peaks can vary. In some variations of the network diagram, the position of the point depends on the number of connections this point has and the group it belongs to. Network diagrams are often used to show the clusters of members based on the intensity of the connections.


Flowchart
A flowchart is a visualization of a workflow. It's a diagram that depicts subsequent steps in the process. In other words, it shows what steps need to be followed to complete an action. A flowchart uses connecting lines and arrows to allow viewers to follow the process. It has many organizational use cases and can be a good tool to map out the customer journey, and step-by-step instructions. It's also popular in project management.
---
Charts in Illustrator
As mentioned at the beginning, many of the charts and graphs listed in this post can be made with Datylon. Currently, we offer 130+ chart templates in our Chart Library. You can sign up for free and try it for yourself.
What is even more interesting, a lot of charts from this list can be designed in Adobe® Illustrator®. Of course, Illustrator has a built-in graphing tool but unfortunately for many graphic designers and data visualization experts, it is seriously limited.
With Datylon for Illustrator, you get full freedom of chart design. It's a chart maker plug-in for Adobe Illustrator with extraordinary features that will help you make the most captivating chart design! Hey, did anyone say fully resizable charts?
➡️ Create an account and don't forget to download Datylon for Illustrator with a free 14-day trial (no credit card needed) and supercharge your data visualization!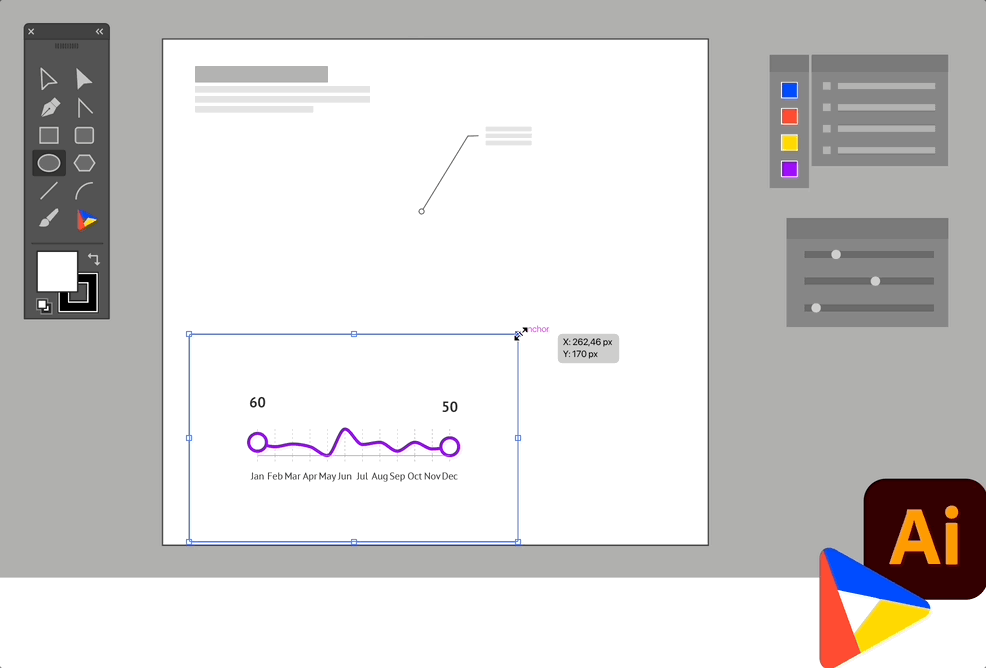 Global citizen, world traveler, content creator, marketing specialist, can't sing to save his life. In his free time, he's mastering Datylon for Illustrator for no reason.