Stijn Simoens - Co-founder & Head of Customer Success
March 20, 2020
It's time for some nice additional color features in our platform to give you even more choice and freedom of design.
New color features and data-driven coloring
Color your bars, pie slices, scatter data marks, heatmaps and icon arrays, using our renewed palette picker;
They now also include custom palettes, categorical, continuous sequential, diverging and categorical equal weight palettes even in reversed order; and
You can select single color swatches from a palette, within our solid color picker and gradient fill.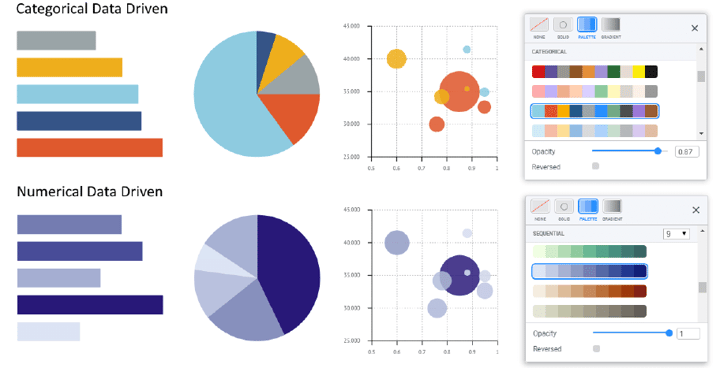 Discover more about our data driven styling features or read the specific Datylon User Guide on this topic.
Helping you to organize your data more easily
You can now rename and reorder workbooks. And don't forget you can link to data provided by others in your team via the Datylon web app.
We continue our mission
With your feedback, you can help us fulfill our mission. Don't hesitate to reach out and talk to us on Twitter, via chat or email.

Your #chartsmatter, #staysafe and keep designing !

The Datylon user group is a rapidly growing community and Stijn is striving for Datylon's customers success. Need help? Talk to Stijn.