Building an innovative location insights solution for Proximus
The Proximus team looked for better and more timely ways to deliver specialized Location Insights Solutions (LIS) reports. They contacted Datylon to create a custom solution, Proximus MyAnalytics. Receiving daily mobile data feeds, this easy-to-use platform delivers clear location insights for marketeers and business analysts.
Understanding the challenge
There was too much lag time delivering Location Insights Solutions (LIS). With their network producing increasingly sought-after data, and not enough specialised resource to deliver to demand potentials, the Proximus team knew that there must be a better way to deliver specialized LIS reports to their customers in a timely manner.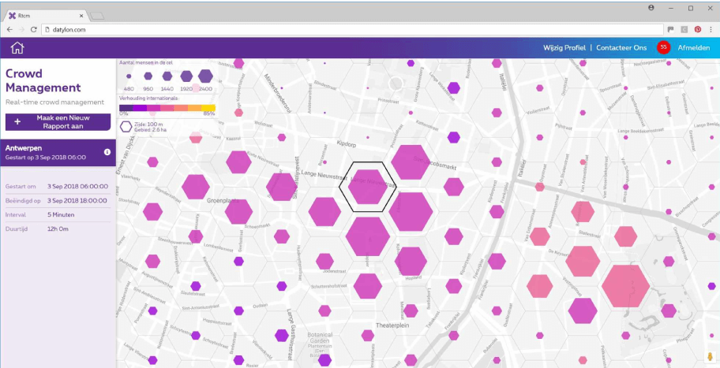 Designing & delivering the solution
Working in close collaboration with the Proximus team, the Datylon projects team developed a truly unique portal that customers could register for and produce their own LIS reports in a simple and user-friendly way. We fully automated ordering as well as delivery of highly engaging, interactive and informative Origin-Destination, Footfall and Crowd-Management reports.
The delivered business value
Progressing from manually produced data science reports, to fully automated LIS reports available online to the end user in a matter of minutes; it is simple to see where the value lies. As well as opening up a new revenue stream for Proximus, with this efficient and scalable solution, the end user is also benefitting. Reports are delivered in a way that means a data novice right through to a data expert can comprehend insights quickly and easily.