How L'Agence developed an outsourced customized reporting solution
L'AGENCE is a Swiss-based digital agency with a long-standing relationship with one of its main clients, a family-owned asset management company. For this company, they recently created, together with Datylon, a solution for designing and producing on-brand, data-rich, personalized and recurrent reports for a portfolio of 60+ customers.
Challenge
Within the wealth management sector, it is still common that Financial Advisors, Fund or Asset Managers provide general data and a general analysis to their respective customers. The client of L'AGENCE.CH (formerly known as Digital is Everywhere) wanted to be different and offer its customers a better experience and increase their loyalty with customized reporting in which they present only the most relevant information to them.
Making regular customer reporting more personal and more attractive is time-consuming. It also requires specific design and data visualization skills, often not available in a financial company, as well as automation options to make the solution scalable.
L'agence researched the marketing extensively for the right solution as it had to meet a set of very specific and demanding requirements:
Ability to create multi-page layouts with a combination of text, image, and data visualizations,
Being suitable and cost-effective for a midsize volume of reports (starting from 10 reports),
Integration with Adobe Illustrator & InDesign to ensure the best design capabilities and an optimal workflow.
And that's when l'Agence discovered Datylon!

Solution
To support their wealth management clients and end customers, L'Agence used Datylon in two different ways depending on the required report type and volume.
A first workflow, suitable for a lower volume of recurring reports, both in terms of the number of pages and frequency, was employed to produce a pilot batch of 10 customized reports.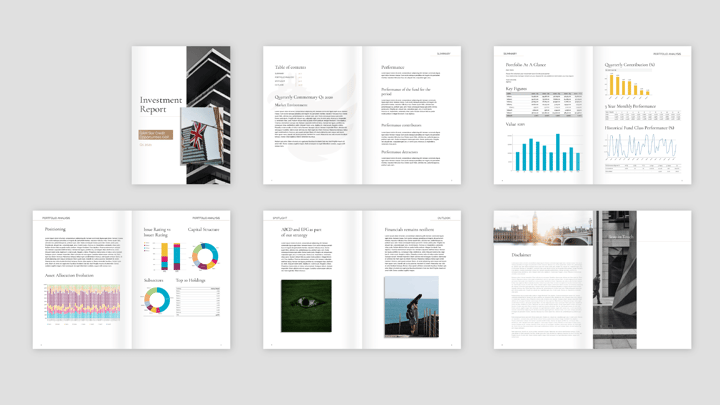 The Datylon for Illustrator plug-in was used in combination with InDesign to create the charts and design templates for the reports. These templates were then exported to the Datylon Report Studio where the individual datasets for each customer were uploaded to generate the different custom reports. This resulted in data-rich and customized reports without compromising on high-quality design.
Soon after the successful pilot, L'Agence's client decided to scale up the custom reporting solution to the full portfolio of 60+ customers on a quarterly basis. For that, the Datylon Report Server was deployed, enabling the production of reports with more pages, in higher volumes and frequency.
Datylon for Illustrator is still used to create the on-brand and fully customizable charts & design templates for the reports. However, the rest of the process of uploading datasets and rendering the recurring reports was fully automated by a custom service connecting via the API to the Datylon Server. This resulted in a very scalable and cost-effective solution that was created stand-alone for L'Agence, but could also easily be embedded in any application.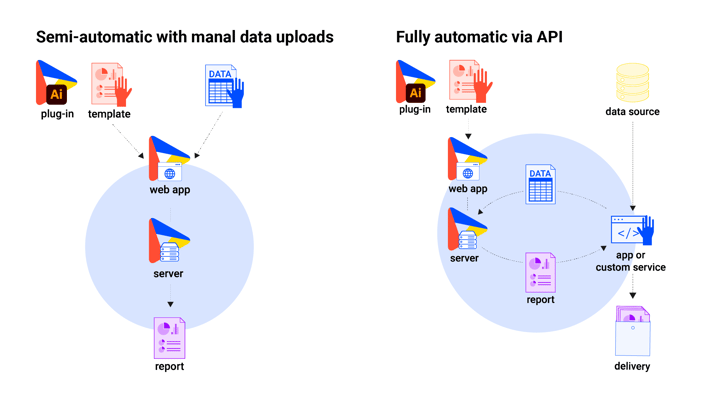 Producing recurrent customized reporting is a big step, but in the end, the reports need to be delivered in an efficient, flexible, and timely way to their final destination, the customers. Reports can be distributed or shared in multiple formats (PDF, SVG, PNG) and via multiple channels (website, social, embedded in email). Either manually or fully automated.
With Datylon everything is already there! You can use the existing building blocks to create the designs and the level of personalization, just as you want it. A proven and sustainable solution, even more with the seamless integration with Adobe Illustrator & Indesign.
Conclusion
For any company or agency, customized and recurring reporting has always been time- and resource-intensive, with chart design & layout limitations and a high risk of data inconsistencies. Often, generic reporting and a one-size-fits-all approach was the only solution.
With Datylon you now have an affordable, high-quality, and scalable solution, with complete branding & design flexibility, to easily make recurring customized reports. This way you can offer a better individual experience to each of your customers by providing the information most relevant to them at regular intervals. On top of that, the ability to create impactful data visualizations ensures that your data is more accessible, attractive, and has more impact.
A solution that certainly works well in the wealth management sector where individual relationships and effective communications, including personalized reporting, play a crucial role.
If you're a business or organization inspired by this dataviz solution for this project, you can get in touch with us. We will surely help you use your data to make a change.