Kosma Hess - Marketing Manager
August 21, 2023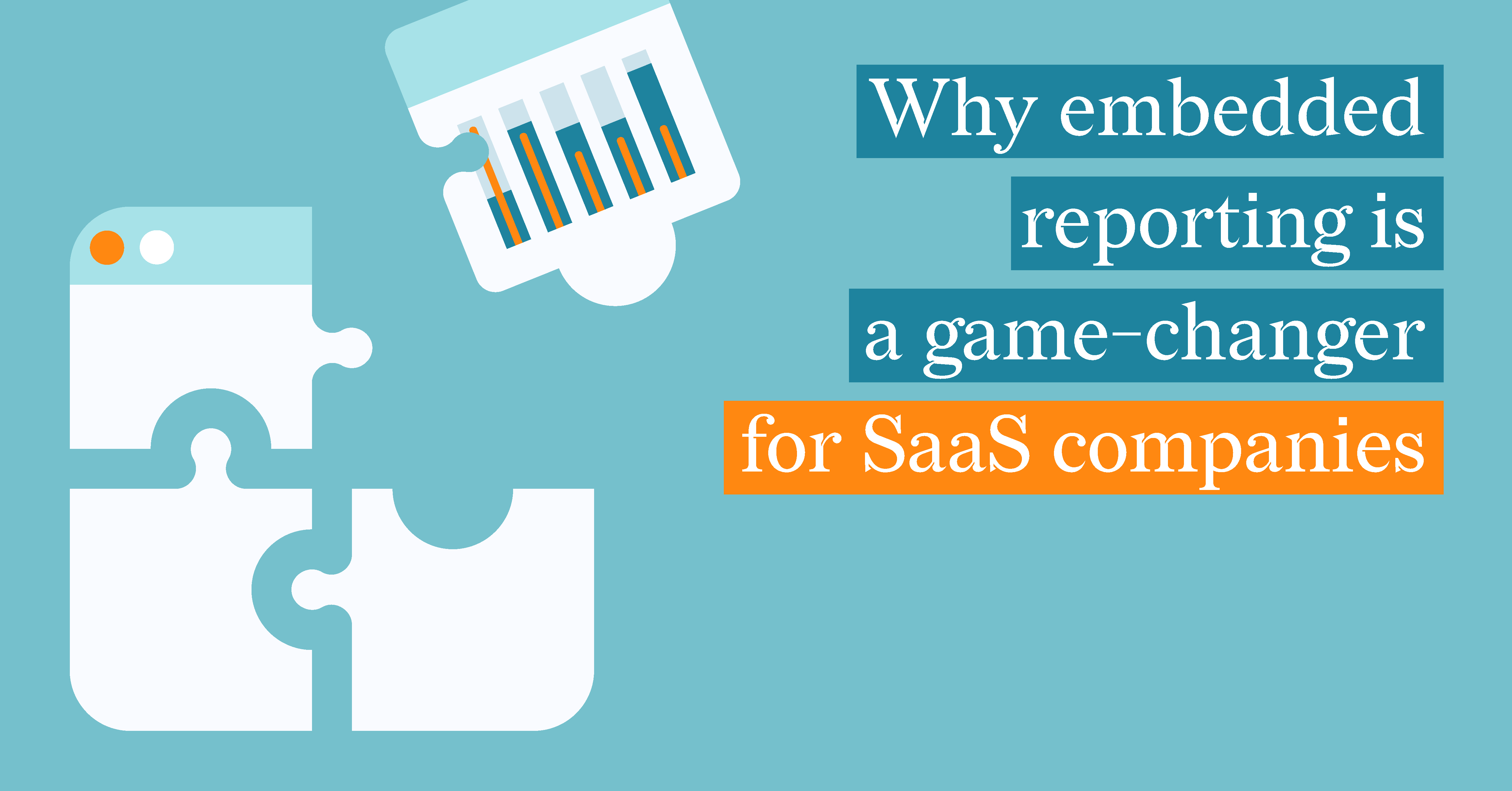 In the rapidly evolving landscape of Software as a Service (SaaS) businesses, the currency isn't just data; it's the meaningful exchange of insights that drives success. A SaaS company's triumph hinges on its ability to not only process data and generate accurate and insightful insights but to effectively communicate it. As the appetite for data-driven decision-making expands, SaaS companies are finding a potent ally in embedded reporting - a solution that takes data communication to a new level.
As we embark on this exploration, we'll uncover why embedded reporting has become a pivotal asset for SaaS companies. This isn't solely about analytics; it's about unlocking the potential of data communication and reporting as a strategic advantage.
What is embedded reporting?
At its core, embedded reporting in the realm of SaaS companies entails seamlessly infusing robust reporting functionalities directly into their software applications. This capability empowers SaaS providers to furnish their users with effortless access to sophisticated reporting prowess, all within the confines of their familiar software environment. This eliminates the need to link to external and expensive BI tools.
The distinctive charm of embedded reporting lies in its ability to let users effortlessly benefit from data-rich reports without having to navigate outside their SaaS application. This is a stark contrast to the traditional ordeal of manual data exports or intricate integrations.
By enmeshing reporting capabilities right within their software, SaaS enterprises can offer a harmonious solution that streamlines reporting intricacies, simplifies processes, and bolsters the value of their application.
How embedded reporting works in practice
An illustrative example of the transformative potential of embedded reporting is embodied by Pointerpro, an innovative provider of assessment software. With an acute awareness of the value of data storytelling, Pointerpro sought to enhance its automated reporting capabilities for clients.
By seamlessly integrating Datylon's suite of data visualization capabilities, Pointerpro was able to not only present data accurately but also create personalized and engaging advice reports for their clients. These dynamically generated reports are enriched with tailor-made, on-brand charts that adapt to user inputs.
Enhanced user experience
Embedded reporting seamlessly integrates data visualizations and data storytelling directly into a SaaS platform's user interface. This offers a more immersive experience for users, eliminating the need to switch between multiple applications or dashboards and avoiding costly licensing of external BI solutions.
By providing real-time, actionable insights presented as compelling reports within the application itself, SaaS companies can empower their users to make informed decisions instantly.
Customizable insights
One of the key advantages of embedded reporting is the ability to tailor the reports to meet the specific needs of each user.
SaaS companies can create personalized dashboards, charts, and graphs, allowing them or their customers to focus on the most important metrics.
Customizable insights enhance the value proposition of the SaaS product and strengthen customer loyalty.
Competitive edge
In today's competitive SaaS landscape, differentiation is crucial. Companies that integrate embedded reporting gain a significant advantage over their competitors.
By providing robust data visualization capabilities as an integral part of their offering, SaaS companies position themselves as comprehensive solutions that cater to their clients' end-to-end needs.
Comprehensive data communication
Embedded reporting supports data-driven decision-making for SaaS companies. Its essence lies in enabling seamless data communication rather than simply crunching numbers. By delivering real-time, comprehensive insights in visually compelling formats, such reporting bridges the gap between raw data and informed actions.
Through seamlessly integrated reports or data stories within the SaaS product, stakeholders can instantaneously access the heart of their data's narrative. This isn't just about charts and graphs; it's about fostering a common language that unites teams, departments, and stakeholders in a shared understanding of the business landscape.
Increased customer satisfaction & retention
SaaS customers demand more than just online software; they seek value-added services and support. Embedded reporting profoundly impacts customer satisfaction and retention. By giving users the tools to easily access and understand their data, SaaS companies introduce a sense of empowerment and control.
Customers can effortlessly track their performance, monitor key indicators, and gain actionable insights, resulting in improved user engagement and satisfaction. Additionally, the ability to generate customized reports and share them with stakeholders enhances collaboration and builds stronger relationships between SaaS providers and their clients.
As customers experience the added value of embedded reporting, they are more likely to continue their subscription, leading to increased customer retention rates.
Monetization opportunities
Embedded reporting not only enhances customer satisfaction but also creates opportunities for SaaS companies to boost revenue through innovative monetization strategies.
By offering advanced reporting features as premium add-ons or as part of tiered pricing models, SaaS providers can cater to the diverse needs of their customer base. Additionally, they can upsell embedded reporting capabilities to existing clients, further increasing the average revenue per user (ARPU).
The flexibility of embedded reporting allows SaaS companies to explore partnerships with data providers or offer premium reporting templates, generating additional streams of income. This diversification of revenue sources ensures a more stable and sustainable business model.
Seamless integration & scalability
Embedded reporting solutions are designed to seamlessly integrate with existing SaaS platforms, typically through an API. This allows SaaS companies to quickly offer reporting functionality to their customers without significant disruption. Moreover, as the business scales, embedded reporting can effortlessly handle increasing data volumes and complexities, avoiding costly licenses of external BI solutions.
More than a feature
In conclusion, embedded reporting is more than just a feature; it is a transformative force for SaaS companies.
By incorporating data visualization directly into their applications, SaaS companies can enhance user experiences, drive data-driven decision-making, gain a competitive edge, and unlock new monetization opportunities.
With its ability to delight customers and revolutionize the way data is accessed and interpreted, embedded reporting is undoubtedly a game-changer for SaaS businesses looking to thrive in the data-driven era. Embracing this technology will be pivotal in staying ahead of the competition and delivering exceptional value to customers.
Are you ready to revolutionize your SaaS product with embedded reporting? Book a one-on-one live demo or contact our sales team for an offer and to see how embedded reporting can be seamlessly added to your SaaS platform and how Datylon can help you achieve your data visualization goals. Empower your users with actionable insights and take your SaaS business to new heights with embedded reporting today.

Global citizen, world traveler, content creator, marketing specialist, can't sing to save his life. In his free time, he's mastering Datylon for Illustrator for no reason.